Tim Byrd #24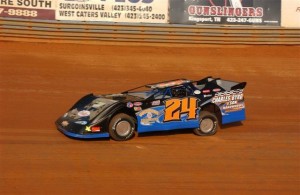 NAME: Tim Byrd
HOMETOWN: Jonesborough, TN
BIRTHDAY: October 22, 1968
MARITAL STATUS: Wife, Lori
CHILDREN: Two daughters, Brittany and Natalie.
CAR #: 24
MAKE OF CAR: TNT Race Cars – Chevrolet Impala
CLASS OF RACING: Pro (Crate) Late Model
CREW CHIEF: Father, Charles Byrd
CREW MEMBERS: Mark Hamby and Jeff Street
YEARS RACED: 2011 makes third year racing.
HOMETRACK: Volunteer Speedway … "The Gap!"
CAREER HIGHLIGHTS (Memorable Moments In Racing): Being named Pro (Crate) Late Model "Rookie-of-the-Year" in 2009 after finishing sixth in points. Finished eighth in 2010 Pro (Crate) Late Model points. Won heat race at 2010 Fastrak Racing Series Grand Nationals.
OCCUPATION: Self-employed – Charles Byrd & Son Hardwoods & Logging Co.
PERSONAL VEHICLE: 2500 Duramax Diesel
DREAM CAR: NASCAR Nationwide Series ride.
FAVORITE MUSIC: Country
FAVORITE TV SHOW/MOVIE: Watching NASCAR racing on TV and other motorsports programming on SPEED Channel.
FAVORITE FOOD: Steak & Potato
HOBBIES: Horseback riding and racing.
SPONSORS: Charles Byrd & Son Hardwoods & Logging Co. of Jonesborough, Tri-City Rubber & Gasket of Johnson City, A&A Diesel Service of Jonesborough, Precision Ironworks of Jonesborough, Advance Auto Parts, and Kirk Loudy – Envy Suspension.
DRIVER/RACE TEAM CONTACT INFO: Tim Byrd at (423) 534-7288