Robert Barndt #14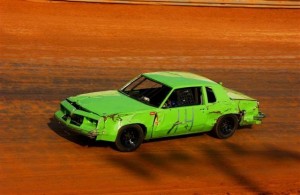 NAME: Robert Barndt
HOMETOWN: Newport, TN
BIRTHDAY: March 19, 1978
MARITAL STATUS: Girlfriend, Dawn
CHILDREN: Joanna and Josh
CAR #: 14
MAKE OF CAR: 1987 Oldsmobile Cutlass
CLASS OF RACING: Road Warrior
CREW CHIEF: Dawn
CREW MEMBERS: Chris, Billy, Jimmy and Hayden.
YEARS RACED: 5
HOMETRACK: Volunteer Speedway … "The Gap!"
CAREER HIGHLIGHTS (Memorable Moments In Racing): Winning Roadhog and Slammers races at Newport Motor Speedway.
OCCUPATION: Mechanic
PERSONAL VEHICLE: 1995 Z-71 and 1986 Oldsmobile Cutlass
DREAM CAR: 1960 Chevrolet Impala
FAVORITE MUSIC: Country
FAVORITE TV SHOW/MOVIE: "Ice Road Truckers" and "Days of Thunder."
FAVORITE FOOD: Steak
HOBBIES: Working on cars and taking road trips.
SPONSORS: Geri's Used Auto Parts in Newport, TN.
DRIVER/RACE TEAM CONTACT INFO: crownvic1457@yahoo.com