Keith Helton #5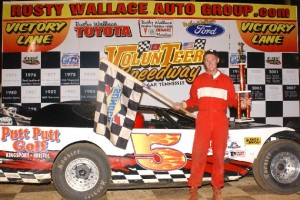 NAME: Keith Helton
HOMETOWN: Kingsport, TN
BIRTHDAY: April 24, 1987
MARITAL STATUS: Single
FAMILY: Phil Helton – Dad, Becky Helton – Mom, Kyle Helton – Brother
CHILDREN: None
CAR #: 5
MAKE OF CAR: C.J. Rayburn – Chevrolet Corvette
CLASS OF RACING: Pro (Crate) Late Model
CREW CHIEF: Dan Estes
CREW MEMBERS: My dad – Phil Helton, Chris Taylor, Nick Castle, Roger Kerns and whoever else shows up to help!
YEARS RACED: Second year racing Pro (Crate) Late Model, however, six seasons racing Pure 4 (Front/Rear Wheel Drive).
HOMETRACK: Volunteer Speedway … "The Gap!"
CAREER HIGHLIGHTS (Memorable Moments In Racing): Winning Pure 4 (Front/Rear Wheel Drive) races at Volunteer Speedway, Kingsport Speedway and 411 Motor Speedway. I'll never forget Saturday, July 10, 2010 … the night I won my first-ever Fastrak Racing Series-sanctioned Pro (Crate) Late Model feature at Volunteer Speedway. Finished third in Pro Late Model points and was divisional Rookie of the Year at Volunteer Speedway in 2010. Competing in only three Pure 4 events in 2009 and 2010 at Kingsport Speedway, won all three. 2008 Toyota of Knoxville All-Star Showdown Front Wheel Drive race winner at Tazewell Speedway. Raced once in 2007 at 411 Motor Speedway, and visited victory lane following Pure 4 win. Finished second in Pure 4 points at Volunteer Speedway in 2006, with six feature wins. Named 2005 Volunteer Speedway Pure 4 "Favorite Driver." Fifteen career wins at five different tracks – Volunteer Speedway, Kingsport Speedway, Tazewell Speedway, 411 Motor Speedway and Atomic Speedway.
OCCUPATION: Railroad Conductor
PERSONAL VEHICLE: Honda Civic
DREAM CAR: I'm living out a dream right now driving my Pro (Crate) Late Model, but basically anything that goes fast and turns left with a roll cage.
FAVORITE MUSIC: Jimmy Buffett, Zac Brown Band, Classic Rock, and really about any music.
FAVORITE TV SHOW/MOVIE: Race programming on SPEED Channel, and Movies (Days of Thunder, Talladega Nights: The Ballad of Ricky Bobby, Step Brothers, The Hangover).
FAVORITE FOOD: Subway sandwiches, steak, pizza, basically anything eatable.
HOBBIES: Racing, Putt-Putt, golf, going out on the lake, just hanging out with my friends having a good time.
SPONSORS: Putt-Putt Golf of Kingsport and Bristol, Estes Construction of Kingsport, and East Tennessee Masonry. … For the Pure 4 No. 9 Saturn, Knoxville TVA Employees Credit Union, Citizens Savings & Loan, Jerry's 24 Hour Locksmith Service, Direct Paintless Dent Repair, Catch 22, Signs & Designs Dunn Right, Putt-Putt of Kingsport & Bristol, Team Action Motorsports (http://www.TeamActionMotorsports.com/ ), with Bodyguard/MMA Fighter Eddie Smith providing security for Keith Helton.
DRIVER/RACE TEAM CONTACT INFO: Keith Helton @ (423) 863-0995 or e-mail @ fwdgapracer9@hotmail.com