Dale Ball #2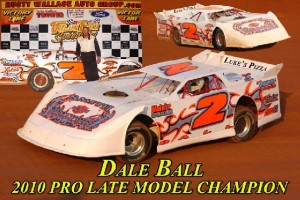 NAME: Dale Ball
HOMETOWN: Johnson City, TN
BIRTHDAY: March 3, 1961
MARITAL STATUS: Wife, Phyllis
CHILDREN: Daughters, Dolly, Dotty and Amanda … and two granddaughters, Avery and Riley.
CAR #: 2
MAKE OF CAR: Warrior Race Cars – Chevrolet Impala
CLASS OF RACING: Pro (Crate) Late Model
CREW CHIEF: My uncle, Robert Ball
CREW MEMBERS: Alan Poyner (Car Owner), Jason Smith, Jamie Street, Steve Williams, and Jim Schweitzer.
YEARS RACED: 36
HOMETRACK: Volunteer Speedway … "The Gap!"
CAREER HIGHLIGHTS (Memorable Moments In Racing): Began racing in 6-Cylinder division when only 14 years old attending David Crockett High School. Won four track championships during my career – 1990 Kingsport Speedway Late Model track champion – 1999 Volunteer Speedway Super Late Model track champion – 2008 and 2010 Volunteer Speedway Pro (Crate) Late Model track champion. Recorded flag-to-flag Fastrak Racing Series Mideast/Southeast Touring Crate Late Model win in 2007 at "The Gap." Eighty-eight career feature wins coming at Volunteer Speedway, Kingsport Speedway, Newport Speedway, Tazewell Speedway, Wythe (Va.) Raceway and Richlands (Va.) Raceway. Dale and his late father (Walter Ball) are the only father-son duo to ever win Late Model track championships at Volunteer Speedway. Five Super Late Model feature wins and was named 2006 Volunteer Speedway "Most Popular Driver."
OCCUPATION: Owner of Twin D Auto & Truck Sales (423-928-3363) located on Hwy. 11E between Johnson City and Jonesborough, and Dale Ball Construction.
PERSONAL VEHICLE: Just whatever I choose to drive on my car and truck sales lot.
DREAM CAR: 1970 Chevrolet Chevelle
FAVORITE MUSIC: Classic Rock, Southern Rock, Country and Bluegrass (I like my Grass – Blue).
FAVORITE TV SHOW/MOVIE: "Gold Rush Alaska," "Ice Road Truckers," "River Monsters," "Swamp People," "Ax Men," "Swamp Loggers," "Swamp Brothers," "RFD TV – Rural America's Most Important Network," "Talladega Nights: The Ballad of Ricky Bobby," and watching racing on SPEED Channel.
FAVORITE FOOD: Good ol' pizza from Luke's Pizza, Steak, Seafood, Japanese, Mexican, and love the Volunteer Speedway hotdogs and fried bologna sandwiches.
HOBBIES: Racing, Fishing and Riding Horses
SPONSORS: Smith Brothers Harley-Davidson of Johnson City, Luke's Pizza of Johnson City, Alan Poyner Enterprises, Mainline Communications, Jim Schweitzer Inc., Twin D Auto & Truck Sales of Johnson City, Tri-City Rubber & Gasket Co., Advance Auto Parts, Envy Suspension & Race Consultants (Kirk Loudy), Warrior Race Cars.
DRIVER/RACE TEAM CONTACT INFO: Dale Ball (423) 791-1026