Jesse Wilder #79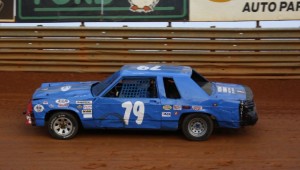 NAME: Jesse Wilder
HOMETOWN: Bulls Gap, TN
BIRTHDAY: April 18, 1984
MARITAL STATUS: Single
CHILDREN: None
CAR #: 79
MAKE OF CAR: Ford LTD
CLASS OF RACING: Road Warrior
CREW CHIEF: Me
CREW MEMBERS: Myself
YEARS RACED: 2011 marks my fifth season racing.
HOMETRACK: Volunteer Speedway … "The Gap!"
CAREER HIGHLIGHTS (Memorable Moments In Racing): Top 10 in Volunteer Speedway Hobby Stock points in 2007, 2008, 2009 and 2010.
SPECIAL THANKS: First to God for my salvation and allowing me to race. To Dad for all the help and support, and to Mom, Heather, Jeff and all the other people who have helped and supported me in racing. And finally to all of my competitors for all the help and advice.
OCCUPATION: Architectural Draftsman, graduated with Engineering Degree from East Tennessee State University located in Johnson City, Tenn., in December 2011.
PERSONAL VEHICLE: 1978 Ford F-150, 1994 Ford Mustang GT 5.0, 1992 Ford F-150
DREAM CAR: 1967 Shelby GT500
FAVORITE MUSIC: Southern Gospel, Country
FAVORITE MOVIE/TV SHOW: "Bullitt," "Gone in 60 Seconds"
FAVORITE FOOD: Home Cookin'
HOBBIES: Racing, hunting, fishing, football
SPONSORS: Out of my billfold – Jesse Wilder Enterprises
DRIVER/RACE TEAM CONTACT INFO: (423) 329-8529 or via e-mail at jesse_wilder@hotmail.com