Dennis Metcalf #55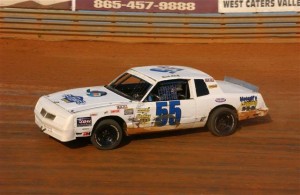 Name: Dennis Metcalf
Birthday: October 15, 1973
Hometown: Marshall, NC
Marital Status: Wife, Mary Ann
Children: None
Car #: 55
Make of Car: Chevrolet Monte Carlo
Class of Racing: Hobby Stock
Crew Chief: Jerry Shelton
Crew Members: Charles Metcalf, Mary Ann Metcalf, Audrey Shelton and Megan Shelton.
Years Raced: Started racing Hobby Stock at Volunteer Speedway in 2007, and 2011 marks fifth season behind the wheel on the high banks.
Home Track: Volunteer Speedway … "The Gap!"
Career Highlights (Memorable Moments In Racing): Winning the inaugural Hobby Stock "Havoc" on June 5, 2010. In rookie season in 2007 ran in eight races and recorded one top-five finish. Finished ninth in 2008 Hobby Stock points, with one top-five run. Finished second in 2009 Hobby Stock points, with six top-five runs. Finished second in 2010 Hobby Stock points, and won the Hobby Stock "Havoc" on June 5 and recorded six top-five finishes.
Occupation: Logger (Metcalf's Logging)
Personal Vehicle: 2004 Ford F-150
Dream Car: 1988 Chevrolet Monte Carlo SS
Favorite Music: Country
Favorite TV Show/Movie: Racing on SPEED Channel, "Tombstone"
Favorite Food: Country Cookin'!!!
Hobbies: Racing, Riding Four-Wheelers, Hunting and Fishing
Sponsors: Metcalf's Logging, Frisby's Body Shop, Lucky You Consignment Shop, Torqued Grafixs, and "Thanks Mary Ann, Audrey and Jerry."
Driver/Race Team Contact Info: maryannw26@yahoo.com