Ricky Moore #75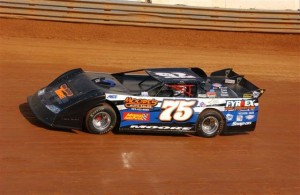 NAME: Ricky Moore
HOMETOWN: Mosheim, TN
BIRTHDAY: January 25, 1968
MARITAL STATUS: Wife, Tammy
CHILDREN: Chad and Alaina
CAR #: 75
MAKE OF CAR: Warrior Race Car & GRT Race Car – Chevrolet Impala
CLASS OF RACING: Pro (Crate) Late Model
YEARS RACED: 11
HOMETRACK: Volunteer Speedway … "The Gap!"
CAREER HIGHLIGHTS (Memorable Moments In Racing): Finished top-six in Crate Late Model points on three occasions – fifth in 2006, fourth in 2009 and sixth in 2010. I've yet to get my first career Crate Late Model feature win, but have recorded 14 top-five finishes.
CREW CHIEF: Tony Wheeler
CREW MEMBERS: Taran Hurst
OCCUPATION: Owner of Moore's Auto Sales and Blue Springs Tire
FAVORITE MUSIC: Southern Rock
FAVORITE MOVIE/TV SHOW: "Walk The Line" and watching motorsports on SPEED Channel.
FAVORITE FOOD: Steak
HOBBIES: Racing and Football
SPONSORS: Moore's Auto Sales of Mosheim, FYREX Fire Protection of Greeneville, Clayton Homes of Greeneville, Snap-on, Advance Auto Parts, Blue Springs Tire of Mosheim, Kesterson's Recovery, and Tammy Moore.
RACE TEAM CONTACT INFO: Driver Ricky Moore (423) 823-8989 or via e-mail at MooresAutoSales@hotmail.com … and Crew Chief Tony Wheeler (423) 620-2349.